Learn how to tackle the holidays with ease
Nov 23, 2022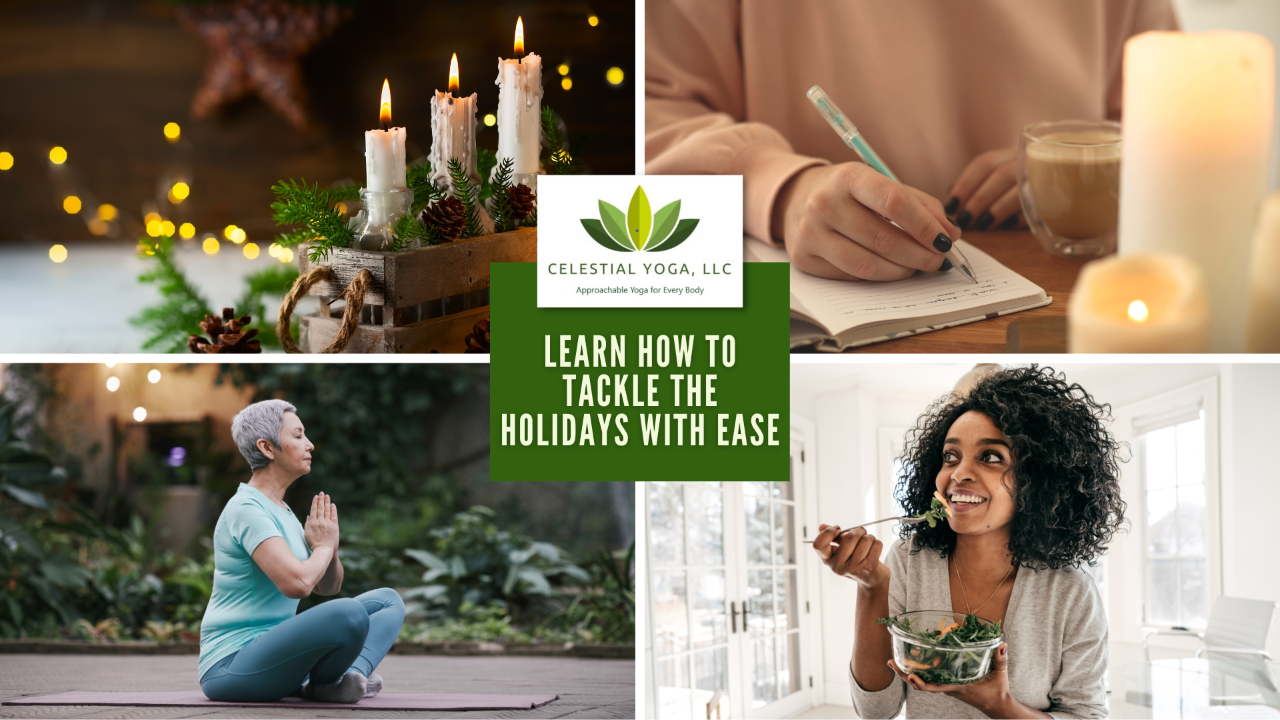 Squeezing in simple self-care practices every day helps you manage your stress and anxiety naturally so that you can have the best holiday season ever!
Join the Waitlist for our Community Here
❤️

Gentle Yoga, Meditation and Holistic Living are definitely forms of self-care.
❤️

It's essential to take time for yourself because you can't pour from an empty cup.
If you've been struggling with chronic stress and pain for a while, you may have worried that you are not the "right size, age, or ability" to "do" yoga and meditation and may not be sure how they can help with pain and stress management.
Super confusing, right?
Luckily, yoga and mindful meditation are not as complicated as you may have probably been led to believe.

🧘🏼‍♀️

✨
Join the Waitlist for our Community Here
The fact is that social media, the news and advertising make this more complicated than it needs to be because they like to spread fear and worry so that we think we are not good enough or that only a magic pill or potion will help with taking the pain and stress away from our lives.

😬
When you understand that yoga, self-care and mindful meditation actually work to help you manage stress and pain, you realize you can learn from the comfort of your own home a few simple but effective stress and pain management techniques.
That's because a lot of these trendy, hot and flow yoga classes (in person and online) have yoga teachers with very little experience teaching various ages, sizes and abilities. The biggest problem I see is that most of these complicated hot and flowy yoga classes don't focus on alignment, nor do they give proper variations to yoga postures so that the students end up overusing and overstretching certain muscles, ligaments and tendons.

😔

Unfortunately, many times it also leads to additional pain and stress, which is exactly what led the students to these classes in the first place.
So then you are back at square one, it can be so frustrating.
To manage stress and pain holistically, you need a guide that has experience working with various body shapes and sizes.
That's where I come in, my friend.

🙋‍♀️
In case you're new to me or are just wondering who the heck I am, let me (re)introduce myself and where I'm coming from.
👉

I'm Jen James of Celestial Yoga, LLC, and a certified yoga and meditation teacher for over 18 years now and am a health and wellness coach too.
👉

My specialty is teaching techniques to improve my students' lives holistically (personally, professionally, spiritually, in relationships, and more!) through Gentle Yoga, Mindfulness, Meditation and Self-Care Techniques to make personal lifestyle changes that stick.
That's why I'm in the process of building an upcoming positive and safe EXCLUSIVE online community!

🤗
This community is going to be all about:
(A) Connecting with, sharing and inspiring other empathetic women on a similar path to you in an intimate and safe environment.
(B) Get advice on holistic living by me (and possibly other experts, at times) with inspiring seasonal Events, Workshops and Challenges that will be organized for you so you can watch live or catch a replay easily.
(C) Belonging to a community that may include accountability tools so that you stay on track with others in the community - Keep motivated with habit trackers, progress wheels, and reminders.
(D) On-Demand Resources (Gentle Yoga exercises, Meditations PLUS Breathing Exercises)
and so much more!
Join the Waitlist for our Community Here